What happens when my dog tears their ACL?
The term 'ACL tear' refers to the partial or complete tear to your dog's anterior cruciate ligament, which connects the back of the femur to the front of the tibia within the stifle (the technical term for a dog's knee).
This injury is incredibly painful for your pet and will lead to immediate lameness of the affected leg. In most cases, a torn ACL in dogs is caused by rotational activities (such as fetching) or by the dog being overweight, putting their joints under pressure carrying the excess weight, or a combination of the two.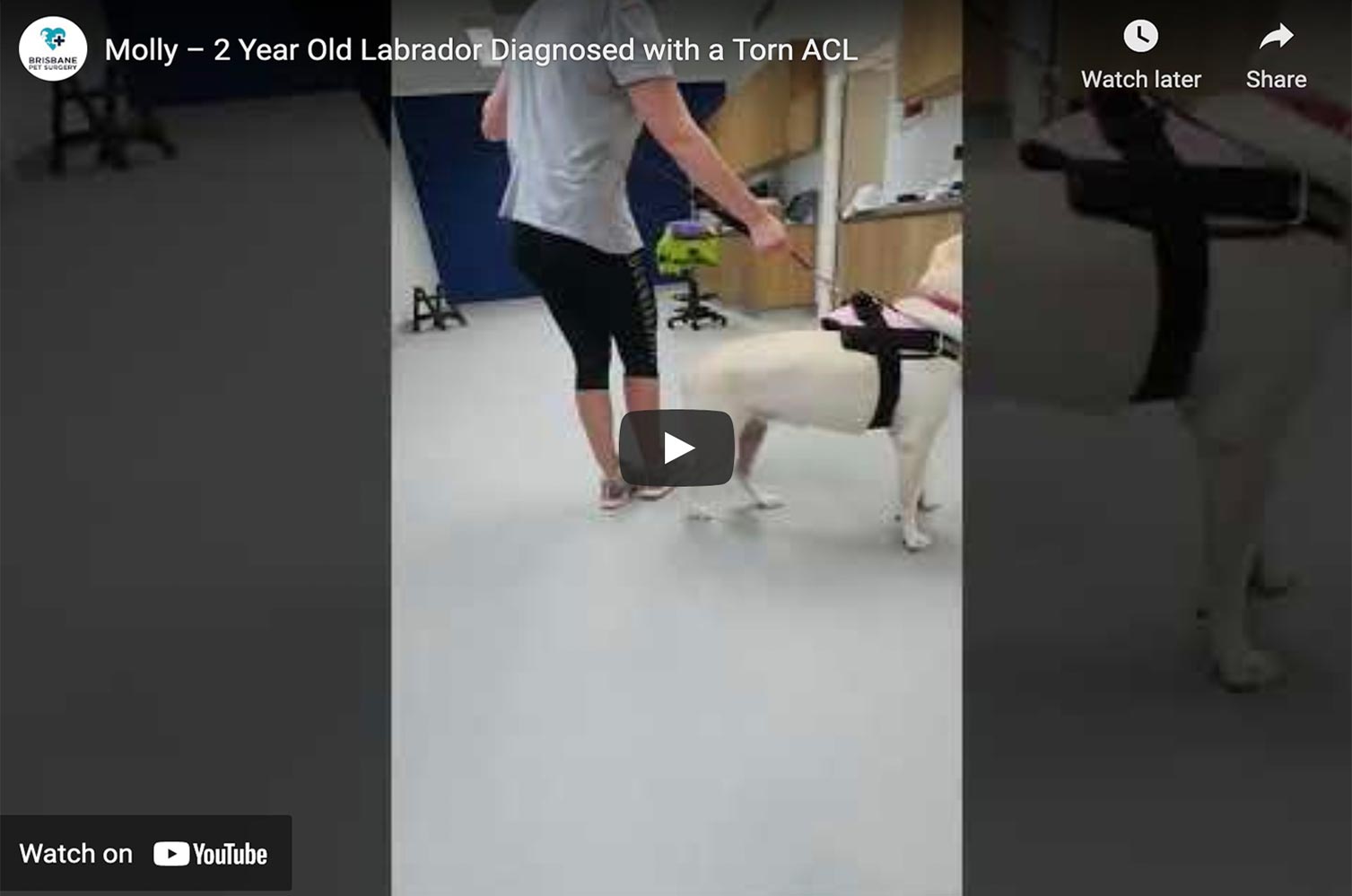 Molly 2 year old labrador - recovery post Zlig surgery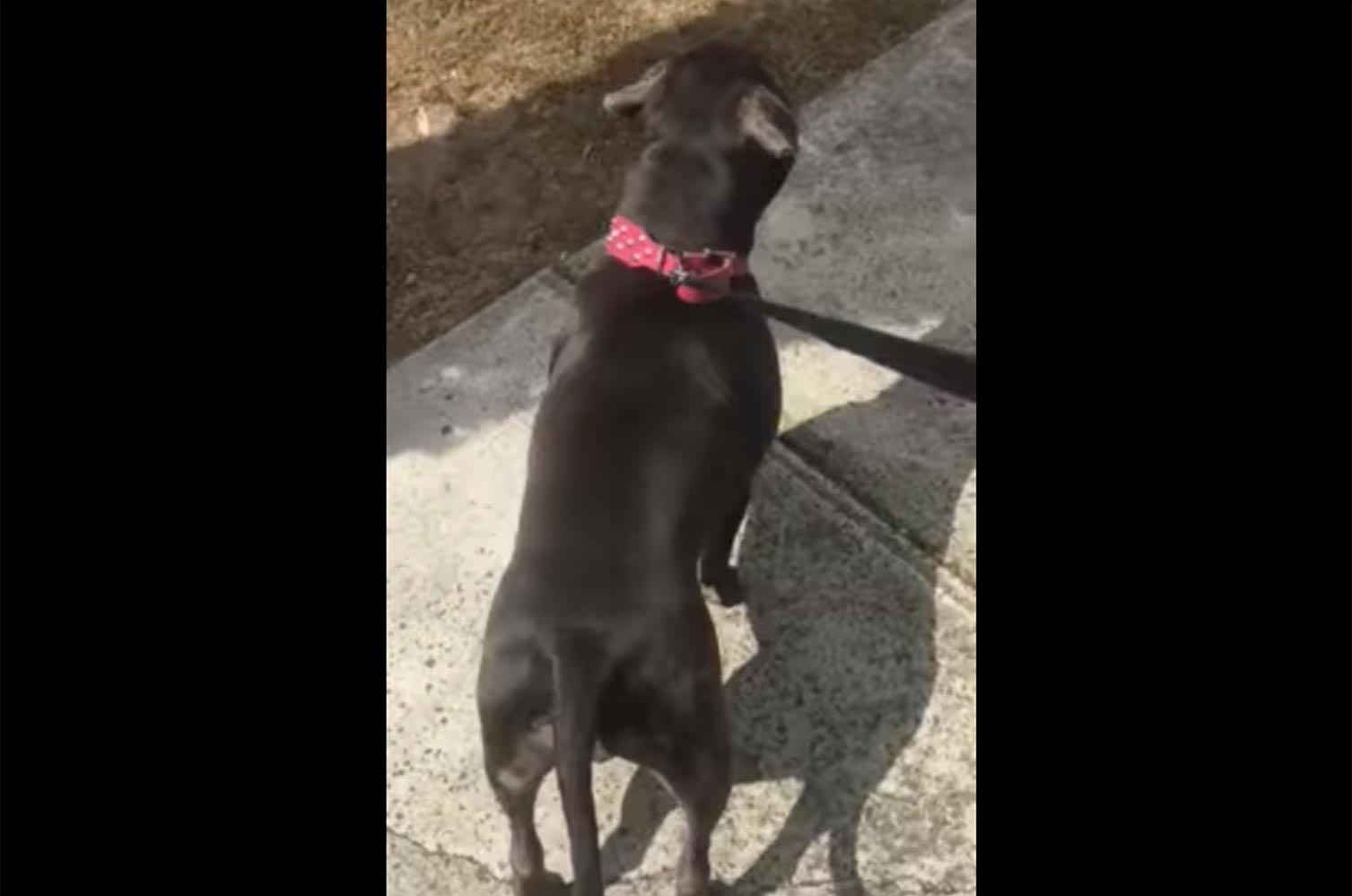 Lola, English Staffy, 12 weeks post MMP for torn ACL
Diagnosing ACL tears in dogs
A complete ACL tear can be diagnosed by simply testing for any movement of the tibia relative to the femur that should not occur. X-rays of the knees and hips are performed by many hospitals (often with the aid of anaesthetic) – however, we feel these are unnecessary in the vast majority of cases and will drastically increase the cost to the owners.
Where there is no stifle instability and no pain in the back, hock or hip, then the problem generally lies within the stifle joint. These cases are usually on minor or partial ACL tears, and rest (either cage or tied up), weight loss where necessary, and walking, performed over two to four weeks, can lead to more than half of these never requiring surgery at all!
Cruciate Ligament Surgery
There are a number of methods to treat torn ACLs in dogs. At Brisbane Pet Surgery, we use a technique called MMP (Modified Maquet Procedure) which involves the placement of a titanium wedge into the tibial crest, forcing the tibia to remain in its correct location and preventing anterior draw sign during walking and running. This technique was developed approximately ten years ago to reduce the costs of repairing torn ACLs in dogs and has been shown to be just as effective as the TPLO (tibial plateau levelling osteotomy) method at 12 weeks post-surgery. This isn't experimental surgery – cruciate ligament surgery for dogs has been performed more than 45,000 times across the world; we use this technique more than 100 times each year.
Three Surgery Options for torn ACL in dogs
Cost of ACL surgery for dogs
Our prices for ACL surgery using MMP range from $1,700 - $2,200.
At many animal hospitals, to stabilise a torn ACL in dogs will generally cost between $4,000 - $7,000, and the MMP method is usually between $3,500 - $4,000. With an aim of providing ACL surgery at costs that more pet owners can afford, we're proud to report that we offer MMP for as little as $1,700 - $2,200. Though our margins are much less than what other hospitals can charge, they only perform 10 to 20 surgeries per year, whilst we perform more than 250 annually. Whilst out margins are thin, we are still able to make more than other hospitals in the area and provide marked savings for our clients. A second benefit is, because we undertake a lot of surgeries for torn ACLs in dogs, we are very good at them!
Recovery and aftercare
We encourage the dogs to walk from day one after the surgery – we see the best results when the pet owners put in the most effort following the procedure. We suggest walking your dog multiple times per day, with the length of the walk increasing each week from three to five minutes at a time to 20 to 30 minutes by four to six weeks after the surgery. In the majority of cases, dogs are 80-90% functional at just four weeks after the procedure. Some patients are even less lame the day after the treatment than the day before! By eight to 10 weeks after ACL surgery, your dog can spend some time off lead, with full off-lead play expected by twelve weeks after the surgery.
What if I opt against ACL surgery?
In the case of a full tear of the ACL, cruciate ligament surgery for your dog is the only option. When your dog's ACL is no longer intact, their knee will become unstable, leading to wear between the bones and cartilage, and eventually, painful arthritis. Bone spurs, or osteophytes, can also develop in as little as one to three weeks, which can cause chronic leg pain and loss of motion within the joint. This is especially common with larger breeds.
At this point, the process can only be halted or slowed with surgery – not reversed. We understand that treatment is expensive, which is why we have done everything possible to keep the repair of cruciate ligament costs as low as possible. If your furry friend is suffering from a torn ACL, then surgery is a must.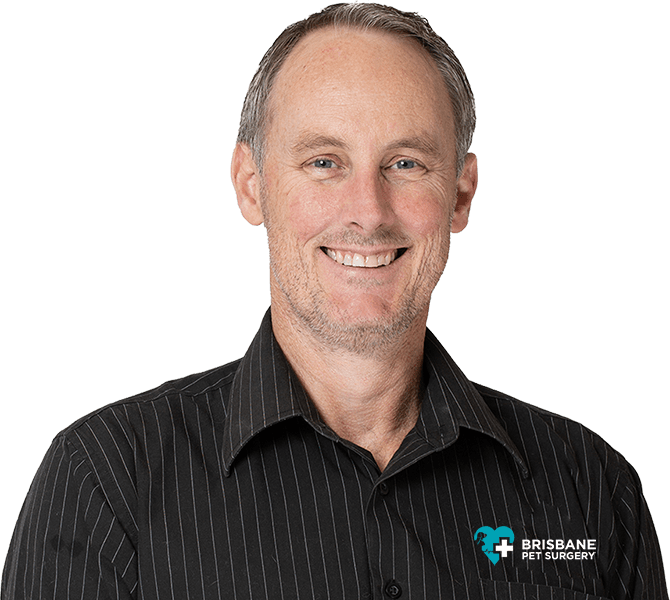 Meet Dr. Scot Plummer
BVSC(HONS)
Since childhood, Dr. Plummer has been passionate about caring for animals, and graduated with Honours in a Bachelor of Veterinary Science from the University of Queensland. He opened the Brisbane Pet Surgery with the aim of making quality pet care affordable for everyone.
About Scot
Pricing Philosophy
Case Studies
Book A Consult
Does your furry friend need to meet with one of our experienced veterinarians? Book a consultation below or call our team today