Sonny the three-legged puppy and his battle with osteosarcoma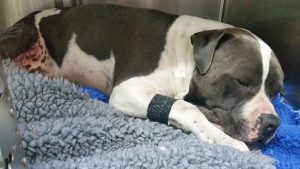 Sonny is a 15 month old American Staffy who was diagnosed with osteosarcoma in the proximal tibia of his right hind leg. Whilst the is a common condition in many older, large dog breeds, it is rare in a dog so young. Sadly, almost all dogs who are diagnosed with osteosarcoma are euthanised to the pain that this condition causes – though not because of the spread of the cancer itself.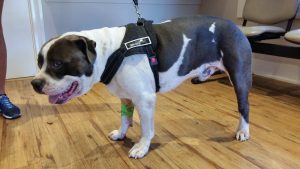 An alternative solution is limb removal, as it allows the dogs to be pain-free post-surgery, and it isn't an expensive undertaking either. We amputated Sonny's leg for just $1,000. Whilst this is not a small sum, it is far more affordable than the $3,000 - $4,000 that the surgery would have cost if it had been undertaken at a specialist centre. In most cases, dogs who undergo an amputation will continue to live pain-free for a further three to six months following the surgery without any further treatment.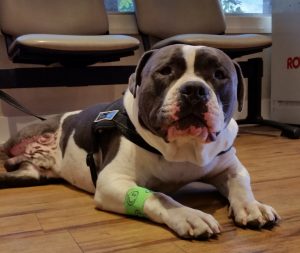 By adding chemotherapy, they may continue to live for a further six to 12 months following the amputation, and sometimes even longer. Chemotherapy doesn't have to be an expensive option – Sonny is currently undergoing doxorubicin chemotherapy every three weeks, which costs $265 each visit. Each session can be as little as an hour at a time, and the owners using remain present during the treatment to support their best friend.